Gateway End-of-Life Coalition membership is open to individuals or agencies that support the mission and goals of the Gateway End-of-Life Coalition. Based in St. Louis, Missouri, our mission is to Promote High Quality End of Life Care for Patients and Their Families. We do that by educating the public, health care providers and students regarding optimal care for the maximum benefit of persons at end-of-life.  We promote collaboration among health care providers, patients, family members, educators and organizations. We advocate for quality end-of-life care with policy makers.
---
UPCOMING EVENTS
Baue Presents: Grief Educational Classes
All classes are complimentary and led by counselors from
the Center for Hope & Healing.
February 19 – Coping with Guilt
March 4 – Grief & Stress Reduction
March 18 – What Now?
February 25, Center to Advance Palliataive Care Recap
Presented by St. Louis Palliataive Care Network.  Featured talks: Getting Started in Telehealth: The Secrets to Success, Pain Management Challenges in the Opioid Epidemic, Update on Community-Based Palliative Care, CAPC Turns 20: Looking Back, Looking Forward & Getting the Message Straight.  Click on the flyer below for more information. Click here to register.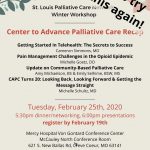 March 18, 2020 Hospice Day at the Capitol & Heart of Hospice Awards Luncheon
MHPCA's Hospice Day at the Capitol will educate our elected officials about hospice and related issues of importance in the care of terminally ill patients. The MHPCA Heart of Hospice Individual Award honors a person affiliated with a MHPCA Member Hospice who, in 2020, gave above and beyond the call of duty, giving of him/herself; thus, enhancing the quality of life for hospice patients. For more information about both, go to www.mohospice.org.
March 27, Intimacy and Sexuality During Illness and Loss
Baue Presents: In this Living with Grief® 2020 program, Hospice Foundation of America will identify barriers to intimacy and sexuality for terminally-ill persons and the bereaved. The program will emphasize the knowledge and skills that professionals must have to sensitively address intimacy and sexuality and suggest interventions that can help dying and bereaved persons address these elemental human needs.            Register here!
BJC Presents: Monthly Caregiver Classes
Classes for those caring for their loved one — personal and professional insight from BJC employees who care. Each class is individually tailored to meet the needs of those in attendance.  Classes are the second Tuesday of the month, from January-December, 2020, 1-2:30 p.m. at Barnes Jewish West County. Classes and materials are free to the public. Attend any classes that are right for you. Classes don't need to be taken consecutively and do not build on each other. To register, call: 314-996-LIFE or Click here for the flyer.
Baue Presents: Surviving Spouses Groups
Bauer's Surviving Spouses Groups are designed for men and women to educate and provide emotional support to the unique experience of widowhood.
Young Surviving Spouses Group 2nd & 4th Wednesdays, 6:00 pm – 7:30 pm
Surviving Spouses 65+ Group  2nd & 4th Thursdays, 10:00 am – 11:30 am
Call 636-328-0878, for more information and to register.
Baue Presents: Grief Yoga
Join us for a series of classes moving through gentle and easy yoga movements while learning to calm the grieving chatter of the mind. Please know that space is limited. We ask that you bring your own yoga mat and dress comfortably. To learn more and to register click here. Call 636-328-0878, for more information and to register.
SAVE THESE DATES:
Gateway Workshops: January 21, April 21, August 18 and October 20    National Healthcare Decisions Day 2020:  April 16                                                The Midwest Regional Conference on Palliative & End of Life Care: November 8-10 (St. Louis – Union Station)
---
Gateway End-of-Life Coalition appreciates the generosity of the ongoing support from these local companies: